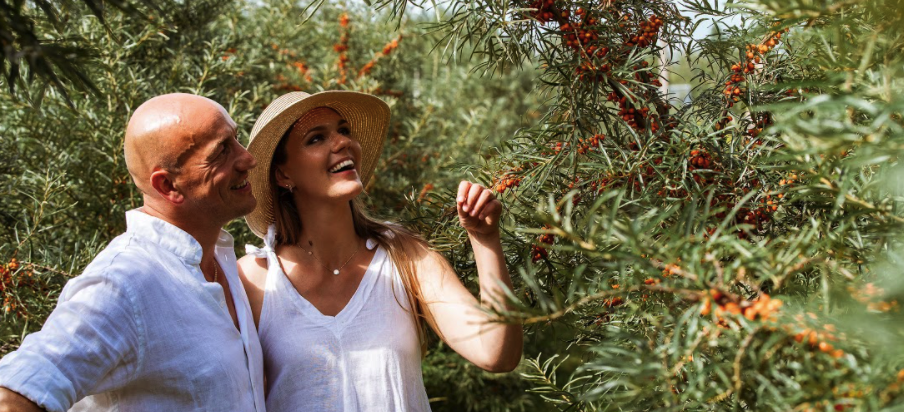 Even back then, when we planted the first sea buckthorn trees in 2016, we wanted our garden to become a meeting place - for lovers of ZELT products, culinary experts, nature lovers, our friends and supporters ... everyone!
The ZELT Garden is also open and available for your special moments - if you are looking for an unforgettable wedding venue, an inspiring environment for photo shoots or a place for various events, close to nature and the capital all at the same time.
For the events, a part of the garden with an area of ​​1 hectare is provided with an electricity connection (220 V), access to drinking water, a parking lot, as well as a space for tents, stage, information stands etc.
To apply for a reservation, contact us at or call +371 28804504.
| | | | |
| --- | --- | --- | --- |
| SERVICE (price, including VAT) |   | Prices Mon, Tue, Wed, Thu | Prices Fri, Sat, Sun |
| Tour of the garden | 1,5h | 10 EUR/pers. for groups of 6 and more | 12 EUR/pers. for groups of 6 and more |
|   |   | 60 EUR for groups of 5 and less | 70 EUR for groups of 5 and less |
| Creative experience (up to 50 ppl) | 2-3h | 21 EUR/pers. for groups of 10 and more | 25 EUR/pers. for groups of 10 and more |
|   |   | 200 EUR for groups of 9 and less | 220 EUR for groups of 9 and less |
| Delicious experience (up to 15 ppl) | 3-4h | 42 EUR/pers. for groups of 10 and more | 50 EUR/pers. for groups of 10 and more |
|   |   | 400 EUR for groups of 9 and less | 450 EUR for groups of 9 and less |
| Photoshoot at the garden | up to 1,5h | 50 EUR | 50 EUR |
| Seminars or events at the Sea Buckthorn House | 2h | 100 EUR/h |   |
|   | 4h | 80 EUR/h |   |
|   | 1 day (8h) | 600 EUR/day |   |
|   |   |   |   |
| Wedding ceremony at the garden | up to 1,5h | 300 EUR | 400 EUR |
| Wedding celebration at the Sea Buckthorn House and garden | 1 day (8h) | 3000 EUR | 5000 EUR |
| Booking the territory and the Sea Buckthorn House | 1 day (8h) | 1500 EUR | 5000 EUR |